You may have read my River fishing report for June 2018 where I talked about small fish, small lures, broken lures and mosquitoes. A few things changed in my River Fishing Report for July 2018 so let's get into it.
In July I fished my local stretch of river on three occasions. Once with my cousin and uncle and then a couple of times on my own. The first highlight from my River Fishing Report for July 2018 comes from the first trip with my uncle and cousin. The idea and sole purpose of that session was to land one of the bigger Chub that we know exist on this stretch of water. Having spent the first few minutes watching my fishing buddie's have at it I went to work with the crank baits. I was landing perch after perch on nearly every swim pretty much all day.  IT was only towards the end of the day that my cousin managed to land a lovely chub which I caught on camera and you can watch on my youtube channel. It was a fun day with loads of banter and the fishing was made worthwhile because of the great catch at the end.
The second trip for my River Fishing Report for July 2018 went pretty much the same as the first. Plenty of perch and a token pike being caught on my one and only Bomber Square A Foxy shad. This is the crank bait that both my uncle and cousin have been doing so well on for the last couple of months. I managed to get this caught in a snag and ended up leaving it behind in the river which put a bit of a damper on the day. I understand that loosing lures and bait while fishing is part of the sport but when you lose your one and only lure in the winning color it hurts. I ended the day frustrated with the ongoing big chub drought but determined to return with lure retrieval tools to save my crankbait.
The third and final highlight from my river fishing report for July 2018 occurred when I went out one hot afternoon with the mission to locate and retrieve my lost crankbait. I did capture the adventure on my Gopro and made a video for youtube.
I do not recommend wading into any river especially on your own. You run the risk of getting stuck in the mud
Dressed in waders and armed with a heavy rod and strong braid. I spent 30-40 minutes dragging a heavy weight and large treble hooks across some reeds where I remembered losing the lure. I eventually snagged into something very solid and at one point considered wading into the river. By the way I do not recommend wading into any river especially if you are on your own. You run the risk of getting stuck in the mud. I have heard stories of anglers having to be rescued from soft mud on river banks. Fortunately, I managed to break free from the snag and rescue not only my crankbait but my uncles Kopyto that he lost trying to save my crankbait. "winner winner chicken dinner" what a result for me. I later had a couple perch on the rescued crankbait but again no chub.
The longer this big chub dry spell continues the more determined I get to lure one of these brutes. My uncle tells me that over the years he has caught his bigger chub during the month of August. As if I needed any more incentive to go fishing. I hope you are all enjoying your fishing and I look forward to updating you in September on my August fishing report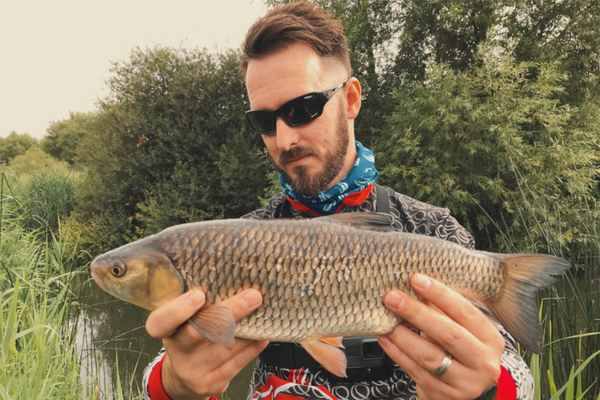 Follow me on social media