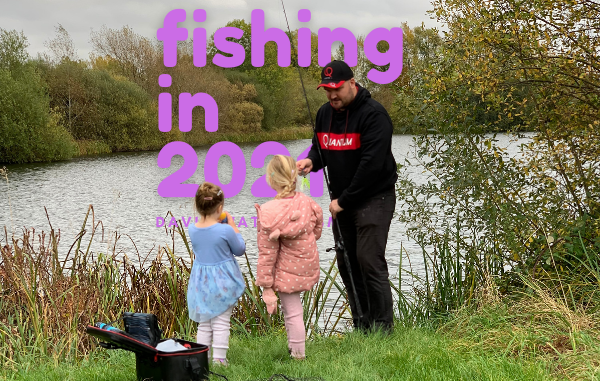 Over the years in one form or another I have reflected on the previous year's highlights and lowlights. Fishing in 2021 was a year to re-group for me.
Off the back of a hard 2020 fishing season, I came into 2021 with a positive attitude and a desire to get fishing more. And whilst I was able to enjoy more fishing It still was not as much as I wanted, but that's not a bad thing.
At the start of the year, I used something like 15-18 days of my annual leave to look after my children whilst we did not send them to nursery. Those are days that I would have normally used for things like going fishing and taking holidays. Again, not a bad thing just a reason I did not do as much fishing.
Tristan's Perch
Highlights, well there are two that really stick out. One of the days on Pitsford targeting perch with my cousin Tristan A.k.a Shoreline Angling. It's a story that makes me laugh.
The lake was busy that day and we were working one of the rocky shorelines with crankbaits. To our horror we watched in pure disbelief as a boat with three chaps in went in between us and the bank we were fishing. To try and help you visualise this, we were fishing about 10 foot off the bank. I could have reached out with my rod and touched these guys as they went past. At the time I wanted to give them some choice words on boating manners. However, I realized that they had absolutely no idea what they were doing as they smiled and greeted us as they went past.
No sooner had they passed when Tristan called out "fish on". Those feelings of horror and disbelief were soon replaced with excitement as we got view of a lovely specimen of a perch. Tristan had christened his new Rapala brat with a lovely fish. We laughed for the rest of the day, hoping that another boat would go through our fishing zone and repeating the capture.
The final highlight I will talk about was taking my children fishing. I spontaneously took my family fishing to a park not far from us in mid-Autumn.
Taking my kids fishing
Emberton park is a family friendly park that has multiple lakes that you can fish on a day ticket or through the Milton Keynes Angling Association annual ticket. It's a great place to fish if you only have a couple hours to fish. You have great access to lots of bank side and can get around with your car. You can catch pike, perch and even chub from the river.
I took the opportunity to test a new rod from Quantum. The Smoke S3 Swimbait. I was mainly casting a large lure called a twinler rigged with a single claw hook. It's an ideal lure for larger pike. It did not take long before we had some action.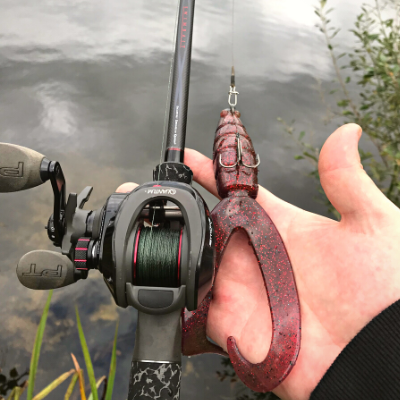 I hooked into a decent pike and was playing it close to the bank so that I could show my children. It was wonderful to see how they were reacting. They were full of excitement almost like they get over Christmas day. They could not believe I had caught a fish. For the rest of the day, it's all they could talk about. For me that is positive signs for the future, they may just start to like fishing like I do.
Reflection and Mental Health
Towards the end of 2021 I had chance to really reflect on not just the year but the last couple years. During my Covid isolation yes, I had Covid along with the rest of my household, so I had plenty of time to really reflect.
It's hard to find the right way of writing this in words without feeling like a weak person. I am not taking away from the fact that this Covid period has caused so much loss and disruption to the world. Much, much worse than my situation, and that I am so very lucky to say at this point our family have not suffered any losses. I am simply expressing my reflections.  I have found it extremely hard to fight the mental demons that this period has brought about.  That along with all the changes.
From working from home with 2 very young children, working in an industry with mega change and disruption and all the unknowns.  Many, many sleepless nights of trying to work out in my head all the what if's. And dealing with all the bad decisions that I had been making during this time. At times even though I was surrounded by my loved ones it felt very lonely and dark. 
The Path I Took
During this reflection time it's clear that I am one of the ones that went down the wrong path. I recall having a negative mindset and that all this change was bad when I could have been looking for all the opportunity and positivity.  The positivity that comes from getting to spend so much more quality time with my children at their young age and create lifelong bonds.
The most relevant point to this post is I did not take the opportunity to do more fishing when I should have. As we all know getting out doing something you love away from the change, away from covid away from the unknowns. Has proven positive side effects for your mental wellbeing.  Where it is just you, nature, the fish and sometimes a buddy.  I say proven because on the hand full of times I went fishing I did come back with a smile on my face. Even when I blanked. It lasted for days too. My attitude was positive my hot temper was down, and I made better decisions. 
The outcomes of my time reflecting have given me a new drive, a new optimism for the future, a better gratitude for my loved ones especially my wife. Who had to put up with the worst of me. Finally, a feeling that I have been able to create a more resilient mindset. I have re-grouped, re-tooled and am ready to take up the exciting challenge of life again.
Re-grouped and re-tooled
If you are reading this and find that you are having similar thoughts or going through something similar, I want you to know there is light at the end of that dark place. Reach out to me on social media lets go fishing and talk about it. That's the first step, I found it really hard to do but when I did, I felt 100 times better. Or speak to someone in your family let them know how you feel. If that does not feel like an option the team at MIND have brilliant people you can talk to. Fishing related there is a team based in Manchester called Tackling Minds who also encourage anyone of any background to get in touch. You are not alone, lets talk.
Thank you for reading Fishing in 2021, I wish you all the very best for the future and that you have tight lines and big catches. I'm looking forward to seeing you fishing. If you see me say hi.