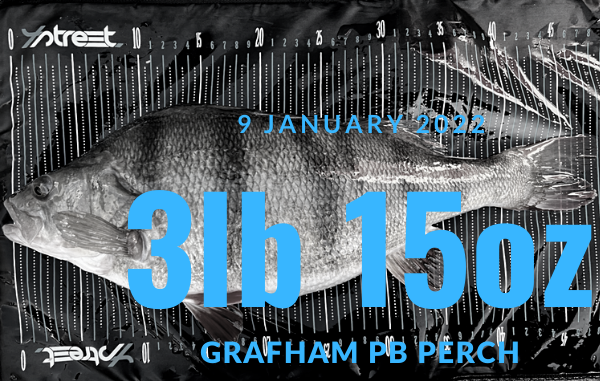 Every squirrel finds its nut. I once heard the best UK lure angler say to a competitor at the end of a competition. Well, that's how I felt on the 9th of January. I caught my PB Grafham Perch to start 2022.
Following on from my last post. I talked about some of my fishing goals for 2022. One of those being that I wanted to land a 3lb+ perch. Well, I am delighted to report that not only have I completed that goal, but it was the very first fish of 2022. What a fish it was, here is my full report.
Sunday 9th January 2022, Grafham water. As usual I was up at 5am prepping my tackle for the day. My planned approach for the day involved a 3-punch attack on Pike, Perch and Zander.
Punch 1
I set up a swimbait rod to target Pike sitting in deep water. Using heavier jig heads and shads from 16-24cm. I envisioned making long casts along steep drop offs. Working deep to shallow bumping the shad across the bottom.
Rod, reel, line, and lure combo for Punch 1
Quantum S3 Swimbait rod – Currently my favorite rod.
Quantum S3 Baitcasting reel paired with 65lb power pro braid.
Freak Of Nature Perch swimbaits
Bisswunder Shad paired with 20 of 30Gram screw in weights and a single claw treble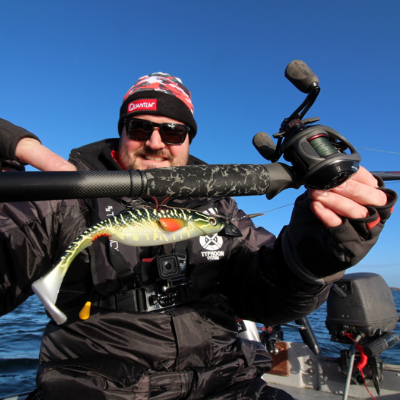 Punch 2
Deep cranking rod to target large perch. Having seen the multitude of social media posts over the last couple months of these mega 4lb+ perch being caught. I wanted to spend some time cranking a few area with sharp changes in depth. I had a couple options of cranks planned. The first being the new Quantum Fat minnow DR ( Deep Runner) – Capable of reaching 3 meters or 10ft. The other options I had to go deeper where the Strike King 6XD, 8XD and even the mega 10XD. Working shallow to deeper water with the longest casts I could make.
Rod, reel, line, and lure combo for Punch 2
Quantum Smoke 7-55g 2.4 meter spinning Rod
Quantum EXO Ti 40 spinning reel paired with 17lb Smoke HD Braid.
Strike King 6XD,8XD and 10XD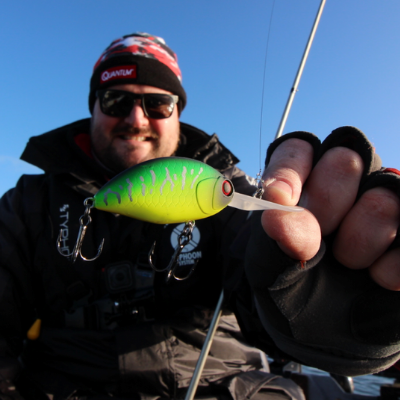 Punch 3
Punch 3 – Bumping smaller baits across the bottom. For this I rigged two rods. One for dragging a skirted jig and craw across the ledges. Then finally a rod to cast one of my favorite baits the 4Streed Wag Worm. Should the more active techniques of punch 1 and 2 above come up blank Punch 3 would be the last resort for me.
Rod, reel, line, and lure combos for Punch 3
Punch 3 – rod 1
Quantum Accurist baitcasting reel paired with 45lb powerpro
4Street Craw on a 21 or 14g skirted jig.
Punch 3 – rod 2
Quantum Smoke 30 with 10lb powerpro braid.
4 Street Wag worm on a 10g or 7g tungsten jig head.
Once I had sorted my 3 punch tackle it was around 7;30am, and I was ready to pack the car. I could not for the life of me find my car keys. I searched high and low for at least half an hour. Eventually I gave up and resorted to using my spares.
When I eventually made my first cast on the water it was 9:30ish. Nothing like a bit of drama for my first fishing trip of 2022. Little did I know I would very shortly be shaking in excitement at sight of my new PB Grafham perch to start 2022.
The Fishing Conditions
There was a NE wind at about 15-18kms, bright skies and clear water. These conditions lead me to approach my first spot drifting from deep into shallow with natural pattern lures. The first spot is the place I lost a big fish deep on my last outing. I ended blanking that day because I refused to downsize my lures.
I started by casting my Punch 1 rig, with the 16cm Bisswunder in Pike pattern on a 20g screw in weight. At the time I was drifting at about 0.5-0.6kt, so covering water at a good pace but manageable.
Once my sounder picked up 30ft of water I moved to Punch 2. Cranking the Strike King 6XD in a shad pattern. Making as long a cast I could. You really can cast that lure far on the 2,4m Smoke spinning rod. I would make a quick couple of turns to get the lure to depth, then start cranking slowly. Often feeling the bill hit the deck.
I would put down that rod once I got around 15ft of water and move to a shallower running crank. Casting the brand-new Fat Minnow DR in fire tiger pattern. I opted for this color as I believe it's a good predator color for shallower water. I also don't tend to get bothered by trout using this color.
Getting The Right Drift
On my first drift it was the new Fat Minnow DR that had the first interest. I watched my Lowrance light up with fish following my lure into the boat coming from deeper water.
I tried to keep over that area for a few casts, but the drift made it challenging.
It was on my third drift that the magic happened. I got my PB Grafham Perch to start 2022. Second cast into punch 2. I felt my line very briefly slacken then tighten up again as a fish had swiped at it bouncing off the deck. I immediately slowed my reeling and my rod bent over when the fish hit the lure again.
The Excitement of The Catch
During the brief fight I did think that I had either a Zander or a small jack. The fish pulled longer and harder than I would expect a perch to have. When I got my first glimpse of the fish, my very casual approach to reeling in this fish turned to a deadly serious race to net it.
Luckily for me I did a good net job and was staring at this brute of a perch clapping my hands as if I had just won the lottery. Now unfortunately I did not have any of my camera equipment running during the capture. But I managed to sort it all out so that I could film, photo the weigh, measure and release process.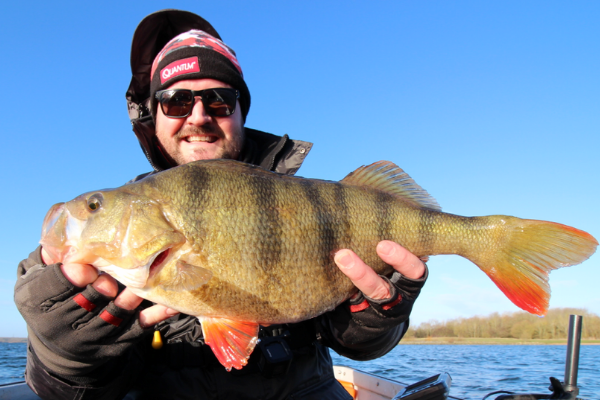 The Feeling of Accomplishment
I was done. Overjoyed with this lucky catch I was prepared to pack up and go home straight away. I did make a few more drifts in the area but could not get the same drift working even with the drogue out. I was moving at about 1kt. I really did think about how investing in one of these fancy the new spot lock electric motors could have allowed me to take that area apart with a craw and jig.
Given my joy and fulfilment with catching my PB Grafham Perch to start 2022 I decided not long after 12:30 to pack up and head home. Having made it home for a big roast lunch I sat around the table telling my family all about the one special catch of the day. My PB grafham perch to start 2022. I can't imagine there is many things better than this.
Thanks for reading this far. I hope you to get to have as good a day as this soon.
P.s When I got home I discovered my wife had my car keys in her jacket pocket…. Think of that what you will 🙂

Until next time, I wish you the very best angling.