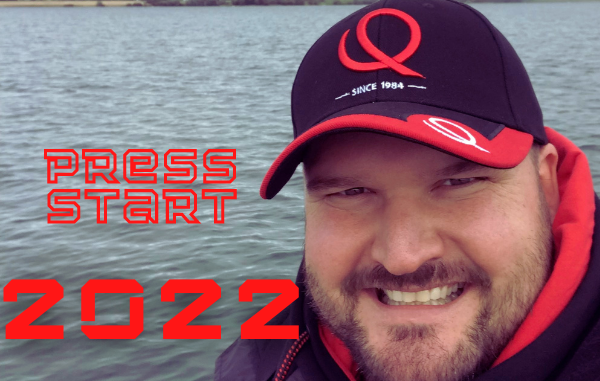 I have come into the new year with new enthusiasm and drive to make the most of every day and every opportunity. 2022 a fresh start to lure fishing.
If you have seen any of my previous posts or been following me on social media. You would have seen I have not been as active in the fishing world for the last couple years. My last post goes into a bit more detail as to why. But I am not here to revisit the past. I am here to focus on the future. Focus on the opportunity.

The Fishing Plans – Anglian Water Predator ticket
Let's get fishing. During 2022 I will once again be purchasing the Anglian Waters Predator Ticket. The cost really surprised me. The last time I had this it was only £240. Just shows how long it's been. Nevertheless, I am looking forward to getting out and targeting some big predators. It is my hope that by the end of the year I can winkle out a 3lb+ perch, a 20lb+ pike and a 10lb+ Zander. I know that the Zander target will be the hardest to achieve so plan to fish Grafham the most. I will start my campaign there over the first weekend of January.
The Fishing Plans – Lure fishing Milton Keynes
The next on my list is something I have kept promising myself I would do. Go into depth about lure fishing in and around Milton Keynes. Creating blogs and you tube videos of my experiences. In and around Milton Keynes there is loads of lure fishing opportunities. From the GUC, Ouzel, Great Ouse to the many man-made lakes such as Willen, Furzton and Caldecott. It's all on my doorstep and feel I should be taking advantage of it. For the water there is to fish the MKAA (Milton Keynes Angling Association) annual ticket is great value.
The Fishing Plans – Spending time with my children fishing
I would like to take my eldest daughter to catch her first fish on the float in summer too. That for sure will be a major highlight. Whilst I have taken both my daughters with me on very brief fishing trips neither of them has caught their own fish. 2022 that changes.

Fishing Tackle – Quantum
A big part of these big plans is the fishing tackle that I use. From the rods, reels, line, terminal tackle, and fishing lures to the clothes I wear. 99% of this will be coming from Quantum my long-time fishing partner. They have been a major part of my life for the last 9 years and I believe this will be one of my most productive years with them. I have already received a large order for their latest lure ranges. So, I expect to really go into detail about this in blog and video too. In the hope to spread awareness of the fantastic gear they make. I will make no apologies for pushing it either, they really do make quality gear.
What are your fishing plans for 2022?
It would be great to hear what your fishing plans for 2022 are, please do get in touch I would love to know your approach to fishing in 2022. Do you make plans for the year, or are you just taking the year as it comes? If you are local in Milton Keynes maybe, we can meet up and have a fishing session.
Whatever your plans are for 2022 I wish you and your loved ones a happy year. Filled with big catches and memories worth keeping. Stay positive and share positivity in the community and good things will happen. 2022 will be a fresh start to lure fishing.