Before I get into Pitsford Lure Fishing let me set the scene. Pitsford is one of seven water parks run by Anglian Water in the east of England. Located in the Northamptonshire countryside well known by fly anglers. Just as popular with big perch and pike anglers as it opens for predator fishing for eight months every year.
Opening its gates to predator fishing during May every year I would recommend booking your boat well in advance.  This year for example I thought I was doing a great job by calling at the start of March. Well the first day I could book was the third day of the opening week.
It is one of my favorite fishing locations in the UK for a number of reasons. Number one being that there is an opportunity to catch very big perch and pike.  Number two you can hire a boat to fish from and its big enough for everyone fishing.
New Pitsford Lure fishing rules in 2018
When fishing for perch the lure needs to be a minimum of 10cm.
When fishing for pike your lure needs to be a minimum of 18cm.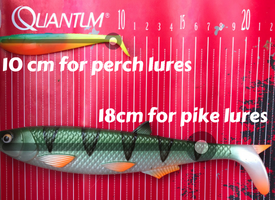 Quick tip – Before Pitsford lure fishing visit the Fishing at Pitsford website by clicking here for all the relevant information and rules. Now you know a little about Pitsford let me get into today's fishing tale.
Friday 18thof May my uncle and I unpacked our fishing tackle into our boat, we were really excited. In my case I was super excited because I had not had a full days fishing for several months. The weather forecast on that day was partly cloudy with max wind speeds of 11km/h. This would have made fishing conditions ideal for us. Well the forecasters were up to their usual as on the day we had blue sky and flat calm water. It was like this for 99% of the day. Having a scan over the water I could see unusually the water was very clear for this time of year. The water level was higher than 2017.  The only element that was as I expected was the water temperature. Which according to my fish finder ranged from 14-17c throughout the day.
Keeping the conditions and rules mentioned above in mind we decided to target perch in shallower water. Using as natural looking lures as possible and making the longest casts we could. Rigged and ready to go we made our way to the first spot. An area we have had good perch from before.
My first casts Pitsford lure fishing were with a 11cm Rapala Shadow Rap in a yellow perch pattern. Now I know you may be asking why a jerkbait at this time of year? To answer I chose this because of the slow sink rate and natural colour in the clear water. I can also work it as slowly or quickly as I needed. It also met the required minimum lure size. I really like the strikes you tend to get on a jerkbait they tend to be pretty savage. I worked that lure and half a dozen other variations over the next hour with not even a nibble.
Having had no luck in a couple of shallower spots we decided to target an area of deeper water. Perhaps the perch were deeper? At this later stage of the morning I had even rolled out a heavy baitcasting setup. I was slow rolling a large Quantum Yolo shad over and around the weed beds looking for big pike.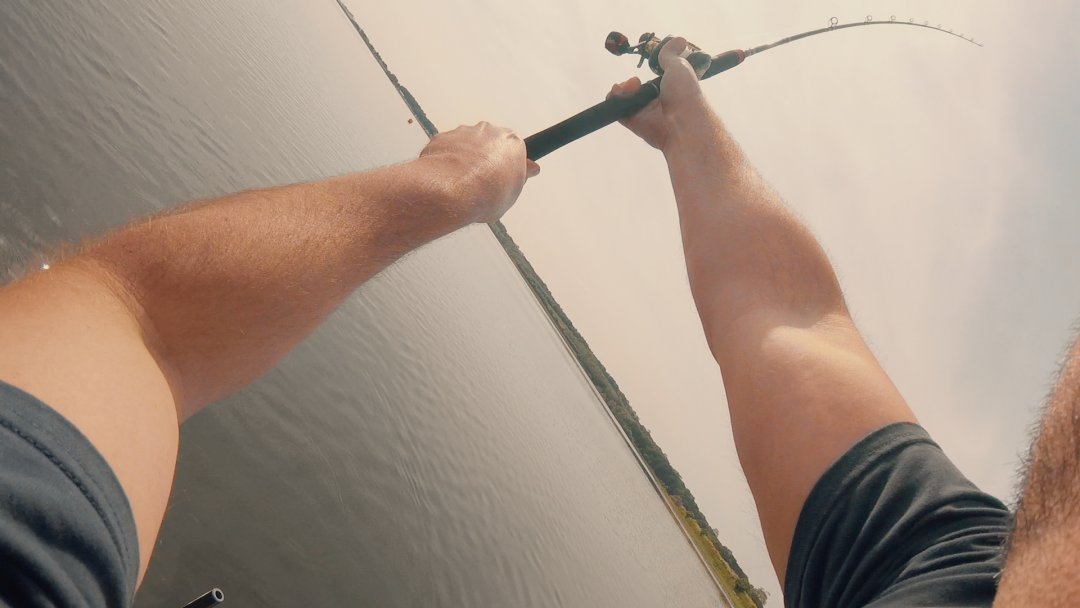 It was whilst casting this lure that we had the first glimpse Pitsford's famous large perch. It came just as the morning lull was setting in. Its that time when the excitement is starting to wear off and that soothing feeling of being out fishing were kicking in. I was just reeling in cast number 275 when my heart skipped a beat as I noticed a massive perch stalking the YOLO shad. Holding my breath, I did my best to entice the perch.
It was all over in a split second as the perch turned and dived back down. I estimate this Perch was high 3-4lb and had to be one of the biggest Perch I had ever seen. Honestly! Deciding that this was a good area we made several drifts with my electric motor exploring every inch.
On one of the last drifts in this area I had moved back to the jerkbait and managed to get this hung up in some weed in shallower water. During the commotion of trying to free the lure through the various jerks, pulls, shakes, line flicks and even swearwords another lovely perch decided to visit my lure. I only noticed this when the lure finally shook free of the snag and the perch lunged at the lure, sending my adrenalin racing. Despite my best efforts I could not turn that lunge into a bite as the big perch casually swam off leaving both my uncle and I disappointed. We were however hopeful that we were onto something that would make the first Pitsford lure fishing trip successful.
Pitsford lure fishing was turning out to be pretty hard on our first outing. Determined to never give up we headed over to a new spot with relatively shallow water in the hope to find those big perch that would be biting. Over the course of the next hour or two we came across a number of big perch in the shallows and try as we may we just could not tempt them with any of our offerings. The perch were clearly not interested as they casually swam around as if the anglers trying to hook them did not even exist. The complete lack of care was evident when one of the perch was bold enough to use our boat as shade cover from the high sun. It was that ridiculous.

In the early afternoon I was rewarded for my efforts with a solid take on one of the new Quantum Q Paddler in pumpkinseed chartreuse on a 5-gram jig head in about 5-6ft water. Even though it was not the target fish being a small rainbow trout it felt good to fight a fish to the boat. You will be pleased to know the fish was released and swam off well having unhooked itself in the water.
The highlight of the day only came later in the afternoon with a couple hours left to fish. Making our way back to the causeway we tried a spot I had not spent much time before and were able to drift along a decent drop off casting as we went. That familiar FISH ON shout was given by my uncle.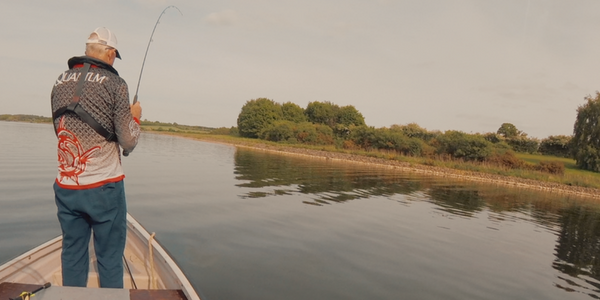 Finally, he had been rewarded for his efforts. Judging by the bend in his rod and the screaming reel this was a decent fish. My uncle expertly fought the fish to the side of the boat where like a true hacker I nearly made a hash of netting the big trout several times. The fish eventually made it into the net which was followed by fist pumps and handshakes of celebration as we admired this fine Brown trout. Weighing in at a cool 5lb 13oz with beautiful markings the days effort was made worthwhile. After a few pictures and a few minutes spent making sure the beauty of the day was fit and healthy she was released for another day.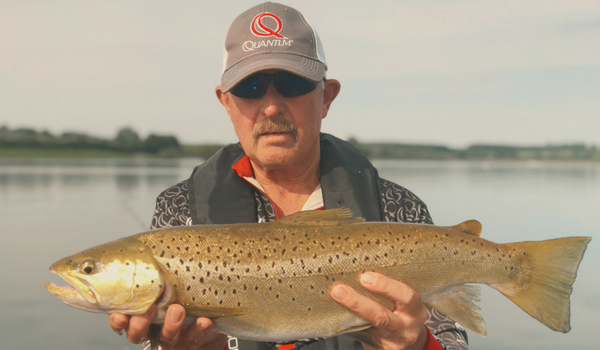 The last couple of hours were spent trying new spots in both deeper and shallow water. With no further signs of fish we called it a day around 6pm. Heading back to the docks weary after a day of a thousand casts but having thoroughly enjoyed the experience. I always really enjoy a day fishing with the man who first showed me the joys of fishing. He truly has got the best fishing tales and a great joy for the sport which I have clearly inherited. Thank you uncle I look forward to our next Pitsford lure fishing outing with the hope to land one of those monster perch we saw.
Pitsford Lure Fishing In 2018
Follow me on social media if you would like to see more like this or comment below with any questions hints or tips